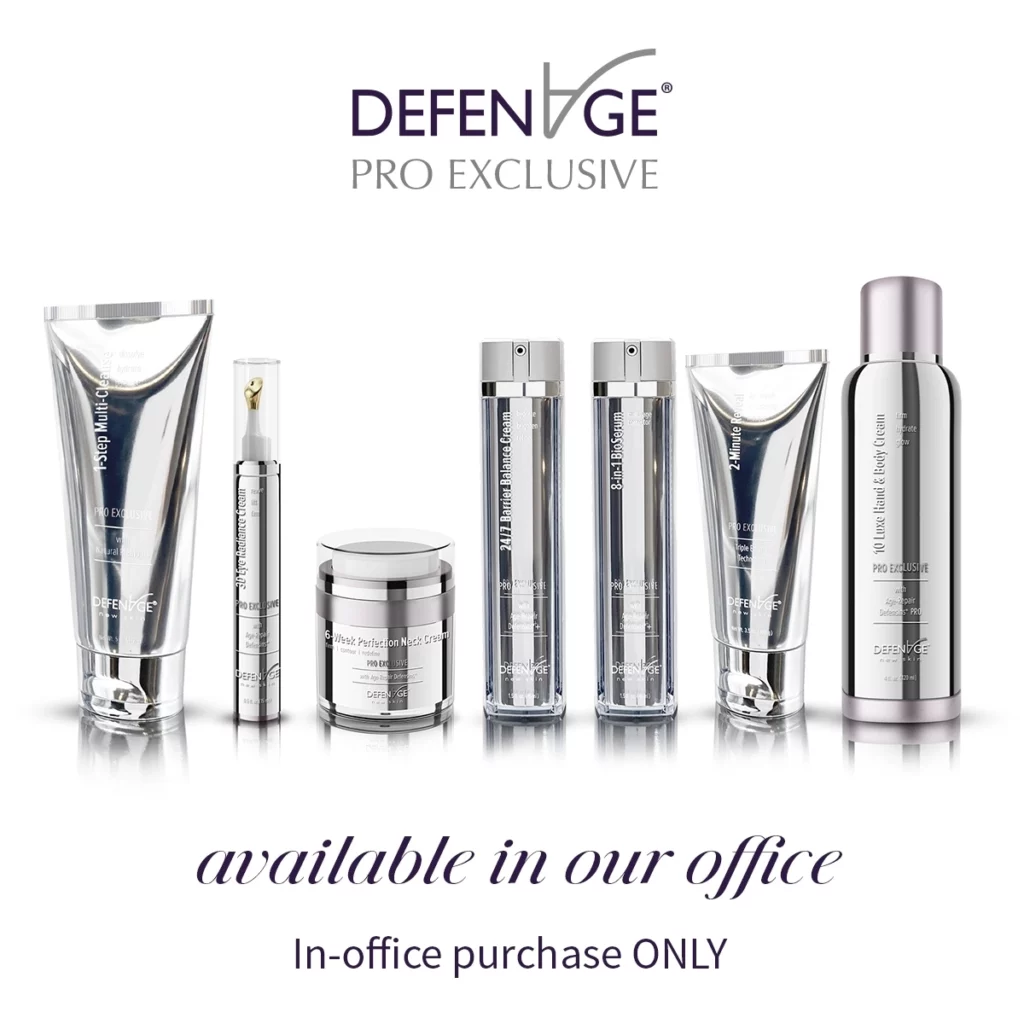 DefenAge's PRO EXCLUSIVE Platinum Edition is a leading medical product line. In order to enhance clinical effectiveness, the products are enriched with an increased level of AgeRepair Defensins. The PRO EXCLUSIVE range is intended to be used exclusively by healthcare professionals. They are restricted to sales in healthcare facilities, and no online purchase is available.
We pride ourselves on offering these products in our practice as an authorized medical professional of DefenAge. To learn more about exclusive, medical-grade DefenAge contact our office!
Clinical Power Trio
PRO EXCLUSIVE Platinum Edition
DefenAge's signature skin care treatment. The Clinical Power Trio is recommended for starting DefenAge.
24-Hour Fast Starter Kit
PRO EXCLUSIVE Platinum Edition
A sample size of our signature regimen, the Clinical Power Trio. After a few uses, you will see that your skin is brighter and more beautiful.
8-in-1 BioSerum
PRO EXCLUSIVE Platinum Edition
DefenAge's iconic product. This biologically advanced serum contains an unprecedented concentration of defensin molecules in the AgeRepair Defensin Complex.
24/7 Barrier Balance Cream
PRO EXCLUSIVE Platinum Edition
Age-Repair Defensins®, multi-action barrier balancing components, and skincare actives that brighten the skin are all included in this intensely moisturizing cream.
2-Minute Reveal Masque
PRO EXCLUSIVE Platinum Edition
With this Triple Enzyme exfoliation mask, you can see great skin brightening in just a few minutes. Instantly refines, softens, and resurfaces the skin.
1-Step Multi-Cleanse
PRO EXCLUSIVE Platinum Edition
Remove surface debris in a matter of seconds, rapidly dissolve heavy makeup and waterproof mascara, and aid in the liquefaction of pore pollutants.
3D Eye Radiance Cream
PRO EXCLUSIVE Platinum Edition
Improves the visible health of delicate skin around the eyes. Technology-loaded treatment with extended performance.
Men's Skincare Kit
PRO EXCLUSIVE Platinum Edition
DefenAge's Men's Kit is "ideal for the man who wants to look his best with an easy-to-use, all-in-one regimen," – Dermatologist Jared Jagdeo, MD, New York.
6-Week Perfection Neck Cream
PRO EXCLUSIVE Platinum Edition
A premium neck-tightening cream that fights aging and contains advanced scientific innovations. Designed to repair challenging deep lines, folds, and effects of gravity on the neck's delicate skin, where aging is frequently more obvious.
10 Luxe Hand & Body Cream
PRO EXCLUSIVE Platinum Edition
The first ever body and hand cream with defensin! multifaceted functionality. first in its field. If you've ever thought to yourself, "I wish I could slather my entire body with DefenAge," the new 10 Luxe Hand & Body Cream is the answer to your prayer. Our new regenerative anti-aging lotion gives far more than just a product that feels smooth to the touch, say prominent opinion leaders in aesthetic medicine.
Schedule Your Consultation
Feel free to reach out and ask us anything!
Ready To Schedule Beauty Treatment?